Archive
200.000 Swiss Francs for the "family rouble", this is a worthy price for the testimony of the happy marriage between Tsar Nicholas I and Princess Charlotte of Prussia
November 25, 2009 – Russian coins are highly popular. The global economy crisis seems to have had no impact on them at all. Therefore, auction sale 21 of the Astarte S. A. on October 30th in Zurich saw a keen participation. A collection of Russian rarities was offered for sale prompting lively bidding skirmishes. 142 coins with an estimate of 600.000 Swiss Francs were auctioned. The result exceeded all expectations: as many as 3.2 Mio. Swiss Francs including buyers' fee were reached. Nine coins brought six-figure sums; they included one of the auction's highlights, the so-called family rouble of Tsar Nicholas I which – with "just" 200.000 Francs – brought the day's second-best result. The most expensive coin proved to be a 25 rouble piece of Alexander II from 1876 sold for CHF 220.000.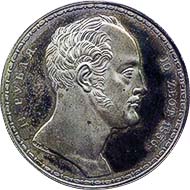 Caption: An example of the rare and popular family rouble was offered for sale in auction sale Astarte 21. The hammer price was exactly CHF 200.000.
The Tsar's family
The "family rouble" surely ranks among the most popular Russian coins due not only to its rarity but to its nice reverse depiction showing the Tsar's family, the image of his wife Alexandra Feodorovna, born Princess Charlotte of Prussia, in a medallion surrounded by the busts of her seven children. The Tsar has made the intimate relationship to his wife and his children obvious: the coin carries a touch of romance.
Nicholas and Charlotte as the oldest daughter of King Frederick William III of Prussia got to know each other at the Prussian court. In 1814 the then 18 year old Nicholas traveled to Berlin – by then he was still Grand Duke – where a possible marriage to Charlotte who was two years his junior was negotiated. Such arrangements were by no means out of the ordinary at the European royal courts of those days. What clearly was out of the ordinary was that the couple fell in love.
On July 13th, 1817, the wedding was celebrated in Saint Petersburg. Charlotte's name was changed to Grand Duchess Alexandra Feodorovna. Only ten months after the first child was born, crown prince Alexander who, as Alexander II, was to follow his father to the Russian throne in 1855. Until 1832, Alexandra gave birth to another six children. After that the doctors advised against further pregnancies due to health issues. Nicholas respected that and took a mistress as was common in those days. His affection to his wife did not diminish, and likewise Alexandra, who had been a little bit jealous in the beginning, accepted the situation and even established an amicable relationship with her husband's mistress.
Tsar Nicholas I
As third son of Tsar Paul I of Russia (1796-1801), Nicholas hardly expected to become future Russian ruler. After his wedding therefore, he and his family lived a relatively secluded life in Saint Petersburg. Only when Alexander I, 19 years his senior, died in 1825 and his second brother renounced the throne, Nicholas assumed responsibility for government affairs – rather reluctantly as it seems. As Tsar Nicholas I he managed to enlarge his already vast empire by important territories at the Black Sea. But when he planned to conquer Turkey, the European parties forged an alliance with the Ottoman Empire and Russia had to accept a crushing defeat in the Crimean War 1853-1856. Nicholas himself died during the war, in 1855. Alexandra retreated to Tsarskoye Selo where she died five years later.
The family rouble
The "family rouble" was first struck in 1835, a few years after the birth of the last son. The image was not novel: Nicholas got his inspiration from the Bavarian historical thaler "blessings of heaven" which shows Louis I on its obverse and Queen Therese surrounded by her eight children on the reverse. Like the historical thaler the Russian imitation first showed each child's bust with a circle but without any legend. Our example belongs to a later emission showing only the bust of the tsarina within a circle. Only 150 pieces of this type were produced. Technically speaking, it is not a rouble but a coin with the value of 1 ½ roubles or 10 zloty, a coin that was more possibly made for gift-purposes not as currency.
The Tsar's children
The children are grouped around their mother according to age: crown prince Alexander, later Tsar, is depicted right at the top. In the second row we see Grand Duchesses Maria (on the right, 1819-1876) and Olga (left, 1822-1892). Whereas Olga married Charles I of Wuerttemberg her sister married – below herself – Maximilian de Beauharnais, 3rd Duke of Leuchtenberg. The third row shows Grand Duchess Alexandra (1825-1844), later wife of Prince Frederick William of Hesse-Kassel, as well as Grand Duke Constantine (1827-1892) who assisted his brother Alexander during his reign (1855-1881) in important government affairs. He was married to Princess Alexandra of Saxe-Altenburg.
Right at the bottom the two youngest sons, Grand Duke Nicholas (1831-1891) and Michael (1832-1909) are depicted. Nicholas made his career in the army but was deposed from his office in 1881 under Alexander III due to strategic mistakes he had made. In private matters he was not lucky, either: his marriage with Princess Alexandra of Oldenburg soon broke irretrievably, and his affair with a dancer surely caused a scandal. Michael on his part was married to Princess Cecilie of Baden and held high military and civil offices.
This is but one example of many interesting coins auctioned in sale Astarte 20 and 21. You will find all coins with description and hammer price at http://www.astartesa.com/auction/
Subscribe to our newsletter now
Get the latest news from the world of numismatics promptly delivered once a week by email.