Archive
Dollars, dollars, dollars – but not for your purse!
by Björn Schöpe

July 2, 2015 – It took the auction house Sotheby's nine whole days to auction off the huge legacy of Andy Warhol after the artist's death in 1987. All together the estate realised over 20 million dollars. On 1 and 2 July Sotheby's is selling again a couple of Warhol pictures, all with the US dollar as subject. One picture alone is estimated at 20 to 28 million dollars. The brand Warhol has become more valuable than ever.
Sotheby's offers the objects under the title of 'To the Bearer on Demand'. © Sotheby's
Sotheby's offers under the title of 'To the Bearer On Demand' (as it is written on the US dollar banknotes) a collection comprising 21 works of famous artists. They share a common subject: the US dollar. Over many years a collector has gathered a choice of the crème de la crème of the genre that can be found outside of museums and galleries. The total estimate ranges from 64 to 89 million US dollars.
Andy Warhol, between 1966 and 1979. Photograph: Jack Mitchell / https://creativecommons.org/licenses/by-sa/4.0/
All his life Andy Warhol was fascinated by money, one might even dare to say: he was obsessed by it. He once wrote: 'Money is the MOMENT to me. Money is my MOOD.' There is one story about how Warhol came to choose money as a subject of his art which fits perfectly well with his statement. At the time he was not yet a famous artist and he hardly had any money at all. The story goes that art dealer Muriel Laptow suggested to Warhol to paint whatever he liked most …
Andy Warhol, Silver Certificate, 1962. Acrylic on canvas, 132 x 183 cm. £13,000,000-18,000,000. © Sotheby's
And the result was 'One Dollar Bill (Silver Certificate)' from 1962. Currently estimated at 13 to 18 million pound sterling, roughly 20 to 28 million dollars. Warhol made other dollar images too but this one, his very first, has remaind the only one made entirely by hand.

With this dollar starts Warhol's Pop Art story: the multiplication of symbols of consumism, of objects from daily life like the legendary Campbell soup cans, or the portrait of Marilyn Monroe – or the dollar.
A couple of months later Warhol came back to the dollar as subject but now he realised his works in a genuine Pop Art way of doing. For the first time in his career the artist applicated the silkscreen method which would make him world-famous later. Eight works with dollar bills appeared, two of which are now on auction at Sotheby's.
Andy Warhol, One Dollar Bills, 1962. Acrylic and silkscreen ink on canvas, in two parts. Each: 210.2 x 48.3 cm. £13,000,000-18,000,000. © Sotheby's
'Front and Back Dollar Bills' shows the front and back sides of the banknotes and is estimated at 20 to 28 million US dollars.
Andy Warhol, Two Dollar Bills (Back) (40 Two Dollar Bills in Green), 1962. Silkscreen ink and pencil on linen, 211 x 48 cm. £5,000,000-7,000,000 © Sotheby's
Another picture shows only the back sides of 2 dollar notes, 'Two Dollar Bills (Back) (40 Two Dollar Bills in Green)', estimated at 7.8 to 11 million US dollars.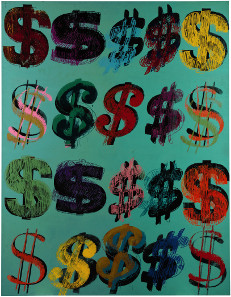 Andy Warhol, Dollar Signs, 1981. Acrylic over colour silkscreen on canvas, 228 x 177 cm. £4,500,000-6,500,000. © Sotheby's
By the beginning of the eighties Andy Warhol was one of the best known and commercially most successful artists of the whole world. In this moment, in 1981, he returned to the dollar subject once more, but this time in a more abstract way.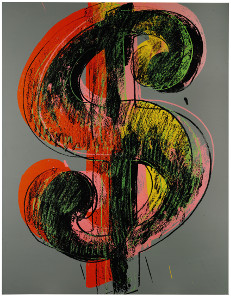 Andy Warhol, Dollar Sign, 1981. Acrylic and silkscreen ink on canvas, 229 x 178 cm. £4,000,000-6,000,000. © Sotheby's
Now, the dollar symbol alone is enough, the money is no longer physically present in the picture. Despite the symbolism the colours are all the more jazzy and convey a lively feeling of energy.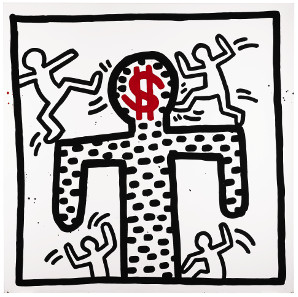 Keith Haring, Untitled, 1982. Baked enamel on metal, 109.2 x 109.2 cm. £250,000-350,000. © Sotheby's
These works inspired other artists like Keith Haring, who saw in Warhol his artistic role model. Haring's relationship with money, however, is much more ambivalent and nuanced. One of his dollar pictures was created one year after Warhol's late dollar symbols. When Haring made 'Untitled' (estimated at 393,000 to 550,000 US dollars), he, the social activist, was quarrelling with his own commerical success.

The pictures demonstrate that money can not only as financial remuneration inspire to work but may even serve as subject of art, may it be abstract or very tangible. Whether the Pop Art artists saw money and wealth only positive like Warhol or more differentiated like Haring – since 'One Dollar Bill (Silver Certificate)' money has been a very stimulating object for artists.

You can find the auction on the Sotheby's website.

The Haupt collection in Berlin, by the way, shows many art objects from all over the world with money as subject.
Subscribe to our newsletter now
Get the latest news from the world of numismatics promptly delivered once a week by email.