Archive
Encyclopedia of Obsolete Paper Money Vol. 7 Published
July 7, 2016 – Whitman Publishing announces the upcoming release of volume 7 of the Whitman Encyclopedia of Obsolete Paper Money, by Q. David Bowers. In 736 pages this volume covers the early bank currency of the Southern states of Alabama, Arkansas, Kentucky, Louisiana, Mississippi, Tennessee, and Texas. The book was published on June 28, 2016.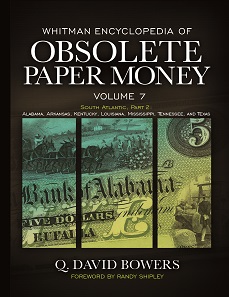 Q. David Bowers,Whitman, Encyclopedia of Obsolete Paper Money Volume 7: South Atlantic, Part 2: Alabama, Arkansas, Kentucky, Louisiana, Mississippi, Tennessee, and Texas. Whitman Publishing, Atlanta (GE), 2016. Hardcover, 8.5 x 11 inches, 736 pages, full color. ISBN: 0794843964. US$ 69.95.
The Whitman Encyclopedia of Obsolete Paper Money is a multiple-volume study of currency issued from 1782 to 1866, before the modern era of National Banks and the Federal Reserve. Over the course of these decades more than 3,000 state-chartered banks issued their own paper money, which facilitated much of the nation's day-to-day commerce.
In volume 7 Bowers, a well-known historian and past president of the American Numismatic Association, gives the history of 182 towns and cities in the states covered, as well as of the nearly 500 bank in those towns that issued this uniquely American currency. Each note is studied, and thousands are pictured in full color, with information on grading, rarity, values, significant auction results, advice for collectors, and more.
"Many old Southern bank notes are out there, waiting to be discovered and identified," said Bowers. "There are rare bills worth hundreds and even thousands of dollars. At the same time, bargains abound in the marketplace, and a smart collector can build a beautiful set of historical Southern notes very affordably."
Active collectors, researchers, dealers, historians, and other experts have volunteered their time and knowledge to help create this new encyclopedia series. The state editors for the Southern states of Alabama, Arkansas, Kentucky, Louisiana, Mississippi, Tennessee, and Texas included noted specialists and researchers Rodney Kelley, Tony Swicer, Randy K. Haynie, Justin McClure, Gary Burhop, and Mike Marotta.
Paper-money expert Randy Shipley wrote the foreword to volume 7. "Obsolete bank notes provide us with a very real glimpse into this great nation's past," Shipley said. "Our banking system has changed, although our history has not. The beauty, appeal, allure and value of obsolete bank notes is almost unimaginably captured by Bowers within these pages. An amazing feat, to say the least."
Whitman Senior Associate Editor Caitlyn Trautwein said, "Until now, the histories of these Southern towns and banks have not been presented in a way that is accessible for collectors. Volume 7 of the Whitman Encyclopedia changes that, as the histories have been compiled from dozens of primary and secondary sources and collated into a single invaluable resource."
Earlier volumes of the Whitman Encyclopedia of Obsolete Paper Money include an overview of the field, and detailed coverage of the New England states of Connecticut, Maine, New Hampshire, Massachusetts, Rhode Island, and Vermont, as well as the Southern states of Florida, Georgia, North Carolina, and South Carolina. Future volumes will cover the rest of the South Atlantic states, the Mid-Atlantic states, the American Midwest, the District of Columbia, and territories.
Collectors, dealers, historians, and hobbyists interested in assisting on future volumes may contact Whitman Publishing.
More information on the book is available on the Whitman website.
Subscribe to our newsletter now
Get the latest news from the world of numismatics promptly delivered once a week by email.