Archive
Fit for Christmas: A Numismatic Angel
December 16, 2010 – Coin Invest Trust presents a truly heavenly coin: a golden angel for a coin collection.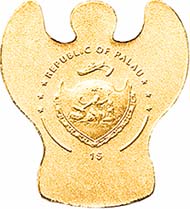 Palau. 1 Dollar - 9999 Au - 0,5 g - Diam. 11 mm - BU - Mintage: 15.000.
In many myths and stories angels play a central role. For example as heavenly creatures sent from God or as guardian angels who ward off evil and misfortunes.
In practically all religions and right up to today's modern esoteric one finds writings about angels. Already in past empires of Ancient Greece and Rome as well as Mesopotamia angel characters were idolised.
Angels radiate warmth, goodness, generosity and a feeling of security. These characteristics make them very attractive for us which makes this coin a perfect present in this special season.
Subscribe to our newsletter now
Get the latest news from the world of numismatics promptly delivered once a week by email.