Archive
Floating Currency a Centenary in the making at the Mint
August 15, 2013 – An exciting new sculpture for Canberra was unveiled by Creative Director of Centenary of Canberra Robyn Archer AO at the Royal Australian Mint on June 27, 2013.
The sculpture, 'Floating Currency', consists of many colourful resin coins that were until recently used as part of the coin production process and represent each standard decimal coin design released since 1965. The resin coins are an example of the amazing technical skills at the Mint, as they were made by the Royal Australian Mint's Chief Engraver Stan Tokarski.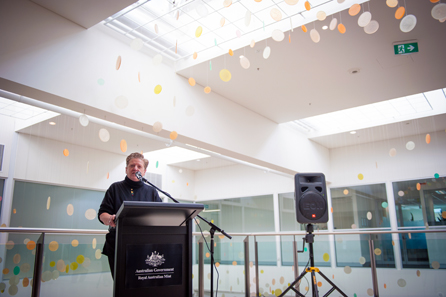 Centenary of Canberra Creative Director Robyn Archer AO launching the Floating Currency sculpture at the Royal Australian Mint. © Royal Australian Mint.
"This new sculpture, 'Floating Currency', is a welcome addition to the diverse Centenary of Canberra program delivered by the Royal Australian Mint," said Ms Robyn Archer.
"The creativity and collaboration behind this work resonates with the high ideals on which Canberra was founded, and the recognition of which is one of the aims of the Centenary of Canberra" said Ms Archer.

The concept for the sculpture was envisioned by Chris Mether of Whitecube, who grew up in Canberra and has also recently completed design work for the National Archives of Australia for the Design 29 exhibition and the National Museum of Australia.
This milestone event for the Mint also marks the beginning of a range of improvements for Mint visitors which have already started. These include a new foyer display of beautiful old minting machinery and new way-finding signage, as well as a revamped café.

"The Mint is committed to constantly evolving the tourism aspect of our institution in conjunction with our vision of excellence as a world class mint," said Mr Ross MacDiarmid, CEO of the Royal Australian Mint.
"This sculpture is just one of the ways we are telling and continuing to tell Australia's story through coins," said Mr MacDiarmid.

The exhibition 'Shilling's Year – a coins eye view of the year 1913', another feature of the Mint's Centenary of Canberra program, is also currently on display at the Mint is and was developed in association with the National Museum of Australia's exhibition 'Glorious Days: Australia 1913'.

You can read an article on the Royal Australian Mint's coin programme regarding the Canberra Centenary here.

And this is the official website of the Royal Australian Mint.
Subscribe to our newsletter now
Get the latest news from the world of numismatics promptly delivered once a week by email.