Archive
From Underground to End-Users
by Ursula Kampmann
translated by Annika Backe

September 15, 2016 – Between May 16 and 22, 2016, several researchers met in San Francisco and Stockton, to discuss the possible effect of mining in general and precious metal mining in particular on a country's minting. All participants saw in their mind's eye the silver deposits of the legendary Comstock Lode whose incredible yield once shook the monetary system in all of Europe.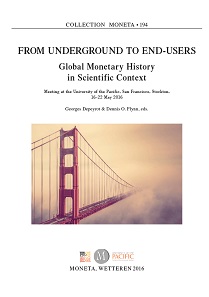 George Depeyrot & Dennis O. Flynn (eds.), From Underground to End-Users - Global Monetary History in Scientific Context. Moneta, Wetteren (2016). 189 pages with several illustrations. 21 x 29cm. ISBN 978-94-91384-62-2. 70 euros.
Precious metal in the New World
Two articles deal with California's and Nevada's flush of metal. In the first one, Gray Brechin who summarizes the impact the Comstock Lode had on the development of mining technology, estates and the emergence of entire dynasties of entrepreneurs. David J. St. Clair shows that without the supplies of mercury of the New Almaden Mines, which enabled the owners of the mines to get this material at a reasonable price, the Comstock Lode would soon have reached its limit. The role mercury played in US American silver refining is highlighted in a three-page contribution by Saul Guerrero, summarizing the results of his soon-to-be released book "The refining of silver ores in New Spain and Mexico, 16c to 19c".
With the situation in Latin America deals Claudia de Lozanne Jefferies in her article on digging, market volatility and fluctuation of exchange rates in the Mexican provinces of Zacatecas and Guadalajara. Alaska is then the focus of Brigitte Touitou-Michon. She publishes the diary a Klondike gold prospector wrote between 1898 and 1902.
Gold and silver in Australia and China
Of course, precious metal was not only mined in America. In his comprehensive contribution, Simon James Bytheway analyses where the Australian gold mined between 1903 and 1945 was brought to. Jin CAO looks at China and the reality of digging and coin minting in Szechuan. As usual, she accesses a great number of sources, which are available only in Chinese. China is also at the heart of the contribution written by Georges Depeyrot, Julien Cavero and Agnès Tricoche, which addresses the trade from and to the Port of Shanghai. Where did the ships originate from? What function did this port have in the distribution of the silver?
What does a country without any precious metal deposits do?
Totally different was the situation in what is today Estonia in the early modern period: What does a country do if it does not have any gold and silver deposits to exploit? This is the question Ivar Leimus is concerned with. And Michael Märcher describes something that can still be encountered in every modern company, the unwillingness to come to grips with a new procedure even if it might prove quite advantageous. How Danish mints revolutionized metal assaying can be read in his article.
Gold and modern bullion coins
The conclusion, in terms of chronology, is made by Ursula Kampmann with her contribution on the economic historical background of the Austrian bullion coin Philharmonic.

You can order the volume, forming part of the Collection Moneta series, for 70 euros at Wetteren.

To read our report on the congress behind the just published volume, please click here.

And if you want to learn more about the Comstock Lode, you should read our relevant article.
Subscribe to our newsletter now
Get the latest news from the world of numismatics promptly delivered once a week by email.