Archive
John Spring's fabulous book on the history of the coin trade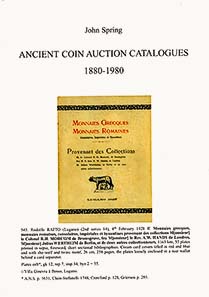 John Spring, Ancient coin auction catalogues 1880 - 1980. London 2009. 374 pages with some b&w illustrations. Hardcover. Thread stitching. 21 x 30.5 cm. ISBN 978-1-902040-88-2. £ 60.
December 7, 2009 – John Spring presents a book every serious coin collector should have in his library. It is a catalogue of all auction sale catalogues published between 1880 and 1980. But it is also much more: it is the history of an oppressed part of numismatics – the history of dealers and collectors told here in many details. Who wants to learn more about the big old collections should refer to this book containing so many illustrations and background information on important dealers and collectors. Provenances are filled with life. This book is a must-have for anyone getting pleasure in learning who the people were that had a particular coin in their possession before him.
Subscribe to our newsletter now
Get the latest news from the world of numismatics promptly delivered once a week by email.