Archive
Mint of Finland: Third provincial coin to be released for Uusimaa
April 16, 2015 - The collector coin of Uusimaa will be released on 20 April as part of the coin series paying tribute to the emblematic animals of Finland's provinces.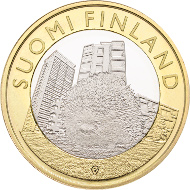 Finland/ 5 EUR/ 9.8 g/ 27.25 mm/ Designer: Erkki Vainio (obverse), Nora Tapper (reverse)/ Mintage: 35,000 (UNC), 10,000 (Proof).
The obverse side of this provincial coin with a five-euro nominal value depicts the hedgehog at the foot of tower blocks. The collector coin's reverse bears the coat of arms of the historical province of Uusimaa.

The collector coin paying tribute to the hedgehog, the provincial animal of Uusimaa, is part of a series of collector coins struck in honour of the emblematic animals of Finland's historical provinces by Mint of Finland. The series is minted by decision of the Ministry of Finance.
Hedgehog. Photo: Mausemarie. Source: Wikicommons: http://de.wikipedia.org/wiki/Igel#/media/File:Igel_Mausemarie_2009.JPG.
This five-euro coin launched in April is the third provincial coin to be released for Uusimaa. Mint of Finland has produced three coin series linked to Finland's historical provinces. The first provincial coin released for Uusimaa in 2011 paid tribute to the factory milieus of early industrialism in Finland. In the Buildings of the Provinces series in 2012, Uusimaa received a coin honouring the architectural tradition of Helsinki with depictions of Helsinki Cathedral and Uspenski Cathedral.

The provincial five-euro coins are some of the most popular collector coins produced by Mint of Finland. Communications Director Henna Karjalainen says that provincial coins attract both experienced collectors and those who wish to demonstrate their love for a province by purchasing its collector coin. "We have been happy to note that also young people who are just beginning to collect coins have found our provincial collector coin series," Karjalainen states.

In 2014, the coins of Karelia, Savonia, Åland and Finland Proper were released in the Animals of the Provinces series. This year, Satakunta received its own animal coin on 9 February and the reindeer coin of Lapland will be launched on 30 March. The remaining collector coin in the series, for the provinces of Ostrobothnia and Tavastia, are slated for release in the spring or summer of 2015.

The Hedgehog of Uusimaa is available in proof or BU quality.

The maximum mintages of these base metal provincial coins with a nominal value of EUR 5 will be 35,000 UNC quality and 10,000 proof quality coins. Collector coins have a diameter of 27.25 millimetres and weigh 9.8 grams. The obverse side of the provincial animal coin is designed by Erkki Vainio and the reverse by Nora Tapper.

Proof-quality, finished collector coins are packaged in a protective transparent casing set in a package that tells the coin's story. The price of a proof-quality collector coin is EUR 22. Five hundred of each UNC-quality collector coin will be wrapped in numbered certificates of authenticity and sold at a price of EUR 10 each. Provincial coins can be purchased for their nominal value in purses of ten, costing EUR 50.

Advance sales of the hedgehog coin of Uusimaa will begin in the Mint of Finland online shop on 7 April. Actual sales by Mint of Finland and its retailers will start on the release date of 20 April.

More information about the Mint of Finland and its products you may find here.

And click here to watch a hungry hedgehog eating.
Subscribe to our newsletter now
Get the latest news from the world of numismatics promptly delivered once a week by email.