Archive
Monarchy and history meet nature and culture on Canada's collector coins
May 2, 2013 – The Royal Canadian Mint continues to celebrate Canada's diverse heritage with a new release of collector coins showcasing Canada's stories, symbols and traditions in an abundant variety of designs and innovative craftsmanship. Themes ranging from the 60th anniversary of the coronation of Her Majesty Queen Elizabeth II and the 250th anniversary of the end of the Seven Years War, to new series on animal architects and unique perspectives on our magnificent maple trees are found on a dazzling array of coins featuring vibrant colour, intricate engraving and innovative materials and finishes. These latest products have been available for purchase since April 9, 2013.

"The Royal Canadian Mint's collector coins are prized all over the world for their quality, originality and innovation and we are proud that our latest collection showcases these Mint trademarks," said Ian E. Bennett, President and CEO of the Royal Canadian Mint. "The unique designs and technological features of our new coins help bring to life the important stories and symbols of Canada, and also make the experience of collecting Canadian coins second to none."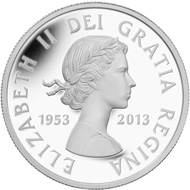 In celebration of the 60th anniversary of the coronation of Canada's longest-reigning monarch, the Mint is featuring Cecil Beaton's official coronation photograph of Her Majesty Queen Elizabeth II in the first application of stunning colour on a 5 oz. fine silver coin. The Mint's largest coin to feature colour vividly captures the historic scene of the young Queen in royal robes, wearing St. Edward's crown and bearing the orb and sceptre as she begins her new life as the ruler of the United Kingdom and leader of the Commonwealth.
New gold and silver kilo coins and a limited edition silver dollar open another window on Canada's history with the commemoration of the 250th anniversary of the end of the Seven Years War. The historic conflict global conflict pitting Britain and France from the African continent to North America between 1756 and 1763 is illustrated on the 99.99% pure gold and silver kilo coins by Royal Arms of the warring nations richly engraved over an 18th century map of the disputed territory encompassing what is now Canada and the United States. A limited edition silver dollar incorporating five different coin finishes features an aboriginal warrior, British and French soldiers, a colonist and a young child representing those drawn into the conflict and hope for the future as a new balance of power took hold on the North American continent.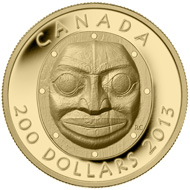 Culture comes to the fore on fine silver and pure gold coins faithfully recreating First Nations artist Richard Cochrane's Grandmother Moon Mask with such precision that even the wood grain of the original cedar carving stands out on these ultra high relief coins. A fresh, colourful perspective on nature can also be found on a Bee and Hive fine silver coin introducing a beautiful new series on animal architects, as well as a fine silver coin of a canopy of maple trees in the spring time. Both coins are beautifully enhanced with colour.

Other products available since April 9 include:
A new 25-cent coloured cupro-nickel coin featuring an Eastern Tailed Blue butterfly over a purple coneflower (a $20 fine silver coin with a Venetian glass butterfly has already sold out); …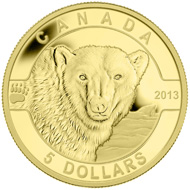 … and a new $5 gold and new $10 and $25 silver coins featuring the Polar Bear from the O Canada Series; …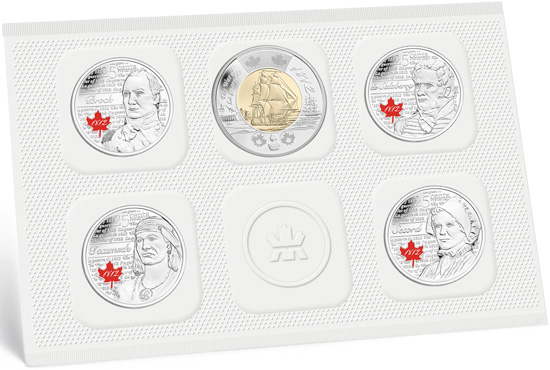 … and a new Commemorative Gift Set and a Special Edition Uncirculated Set featuring all five coins from the 200th anniversary of the War of 1812 circulation coin series.

More detailed information on these and other products of the Royal Canadian Mint are available from the mint's website.
Subscribe to our newsletter now
Get the latest news from the world of numismatics promptly delivered once a week by email.