Archive
New 2 Euro King's Double Portrait from the Dutch Mint
May 22, 2014 – Following the 2 euro Double Portrait 2013 (commemorating the announced change of rule) and the introduction of the new Dutch euro coins for 2014, a new 2 euro King's Double Portrait (Koningsdubbelportret) will be released in May of 2014. This is a fitting goodbye to the well-known coin designs featuring former Queen Beatrix. The King's Double Portrait is the final part in the coin trilogy to commemorate the change of rule, together with the Double Portrait and new euro coins.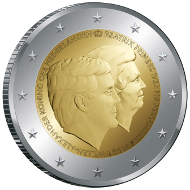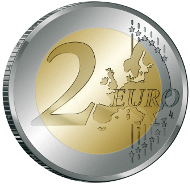 The 2 euro King's Double Portrait features King Willem-Alexander as reigning monarch in front. The first Double Portrait in 2013 featured Queen Beatrix in front, who was reigning monarch at the time. The design is by the Royal Dutch Mint and is created by designer Pannos Goutzemisis, just like the 2 euro Double Portrait 2013. Both visuals are classic and traditional.
The 2 euro King's Double Portrait 2014 in Proof quality is part of the Proof Set 2014.
For more information, you can visit the Royal Dutch Mint's website.
CoinsWeekly reported on the new Dutch Euro coins for 2014 in this article.
Subscribe to our newsletter now
Get the latest news from the world of numismatics promptly delivered once a week by email.