Archive
News from Perth for February
February 23, 2012 – The Perth Mint continues its successful series Ships That Changed The World featuring USS Constitution and introduces new series like the Australian Opal Series and a three-coin set commemorating the London 2012 Olympic Games.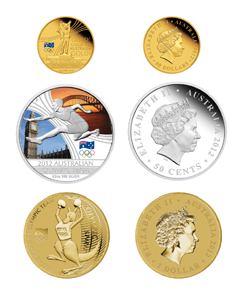 Australia - Design: Wade Robinson - Mintage: 750 (set), 2,012 (single gold coin). Three coin set: 60 AUD - Gold 999 - 10 g - 22,50 mm // 2. 0.50 AUD - Silver 999 - 15.591 g - 36.60 mm // 1 AUD - aluminium bronze - 13.80 g - 30.60 mm.
From the awe inspiring opening ceremony to the sheer excitement of the competition, the London 2012 Olympic Games will feature thousands of athletes, 26 sports and 205 participating countries. To commemorate this occasion The Perth Mint are releasing a Three-Coin Set and a 10g Gold Coin. These Releases are available for sale within Australian only.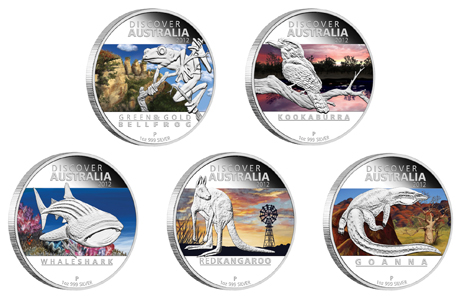 Australia - 1 AUD - Silver 999 - 31.135 g - 40.60 mm - Mintage: 7,500 (each).
The Perth Mint is proud to announce the highly anticipated 2012 Discover Australia Silver Proof Coin Series. With five new animal designs for 2012 the coins consist of; The Red Kangaroo, The Whale Shark, The Green and Gold Bell Frog, The Goanna and The Kookaburra, all of which are available individually or as a five-coin set.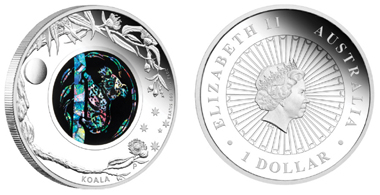 Australia - 1 AUD - Silver 999 - 31.135 g - 36.60 mm - Design: Aleysha Howarth - Mintage: 8,000.
February marks the release of a delightful new program; The Australian Opal Series. In the first release a wonderfully crafted Koala has been created in Australian Opal and set in 1oz of 99.9% pure silver.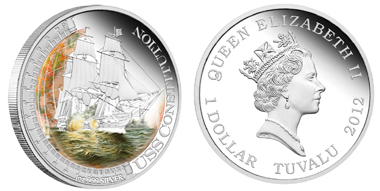 Tuvalu - 1 TVD - Silver 999 - 31.135 g - 40.60 mm - Design: Tom Vaughan - Mintage: 5,000.
The fourth release in the charming Ships That Changed The World series features the USS Constitution. A wooden-hulled, three-masted, heavy frigate of the United States Navy, President George Washington named the ship after the Constitution of the United States of America. She was launched in 1797 and is the world's oldest floating commissioned naval vessel.
Here you will find the Perth Mint.
Everything on London 2012.
USS Consitution has a interesting site of its own, as well as a museum.
Subscribe to our newsletter now
Get the latest news from the world of numismatics promptly delivered once a week by email.