Archive
Norwegian Commemorative Coin for Supreme Court Bicentenary
June 4, 2015 - Norges Bank issued a 20-krone special edition circulation coin in 2015 to mark the bicentenary of the inception of the Supreme Court of Norway.

The circulating commemorative coin was issued on 7 May. The coin has the same format as the ordinary 20-krone coin and is legal tender.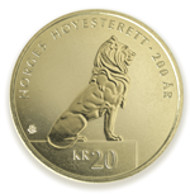 Norway / 2015 / 20 KR / Alloy: 81% Cu, 10% Zn, 9% Ni / 9.9 g / 27.5 mm / Design: Christopher Rådlund (reverse).
The anniversary motif was designed by the painter and graphic artist Christopher Rådlund and is a reproduction of one of the two lion sculptures flanking the main stairway in the Supreme Court's entrance hall. The sculptures were modeled by Lars Utne (1862-1922) and cast in brass. The lion motif is also a recurring theme in the Supreme Court building.
Norway / 2015 / 20 KR / Alloy: 81% Cu, 10% Zn, 9% Ni / 9.9 g / 27.5 mm / Design: Ingrid Austlid Rise (obverse).
As has been the case with special edition circulation coins in recent years, a portrait of the King is used as the obverse motif. The motif was designed by Ingrid Austlid Rise, designer at Mint of Norway.

For more information, please see Norges Bank's website.

To visit the website of the Supreme Court of Norway please click here.
Subscribe to our newsletter now
Get the latest news from the world of numismatics promptly delivered once a week by email.