Archive
Queen Elizabeth Land Coin
June 20, 2013 – The Pobjoy Mint announces that a new legal tender commemorative coin is to be issued by The British Antarctic Territory to celebrate the naming of part of the Territory 'Queen Elizabeth Land' as a mark of respect to Her Majesty Queen Elizabeth II in this the Diamond Jubilee Year of her Coronation.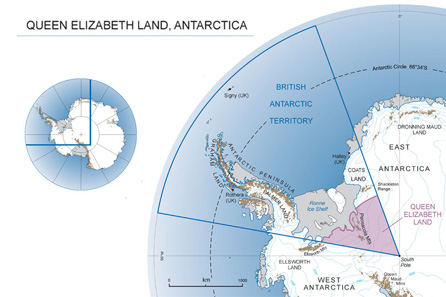 The announcement of the naming of Queen Elizabeth Land was made by the Foreign Secretary, The Right Hon. William Hague on 18th December 2012 when Her Majesty the Queen visited the Foreign and Commonwealth Office as her last official engagement in her Diamond Jubilee of Accession Year.
This new coin shows the entire British Antarctic Territory, together with an outline showing where Queen Elizabeth Land lies in the southernmost part of the Territory. A cameo portrait of Her Majesty based on her visit to the Foreign and Commonwealth Office also appears on the coin, together with the wording 'Queen Elizabeth Land' and the denomination £2.

The obverse of the coin bears a fine effigy of Her Majesty Queen Elizabeth II, designed by Ian Rank-Broadley FRBS.

Available in Unc Cupro Nickel, Proof Sterling Silver and both 1/64oz and 1/25oz Proof Fine 999.9 Gold, each precious metal coin has been carefully struck four times to produce a glorious mirror-finish background with the design sculpted in striking relief.

For more information on this coin please visit the website of the Pobjoy Mint.

There was an international dispute since Argentina has long claimed the territory as its own.
Subscribe to our newsletter now
Get the latest news from the world of numismatics promptly delivered once a week by email.