Archive
Royal Canadian Mint celebrates the FIFA Women's World Cup 2015 in Canada
June 11, 2015 - From June 6 to July 5, 2015, Canadians will have the world's best female soccer teams playing right in their own backyards as six cities across the nation host the FIFA Women's World CupTM. The Royal Canadian Mint unveiled collector coins to commemorate this milestone sporting event in two of the host cities: Vancouver and Moncton.
Members of Canada's National Women's Team along with kids from local clubs were on hand to help celebrate.

"Whether you're an active soccer player, or an avid fan cheering from the stands, the Mint has created exciting keepsakes which celebrate this prestigious sporting event coming to Canada," said Sandra L. Hanington, President and CEO of the Royal Canadian Mint. "With designs as heart-stopping as the action expected on the pitch, these coins capture the drama, intensity and diversity of competing at the FIFA Women's World Cup Canada 2015™."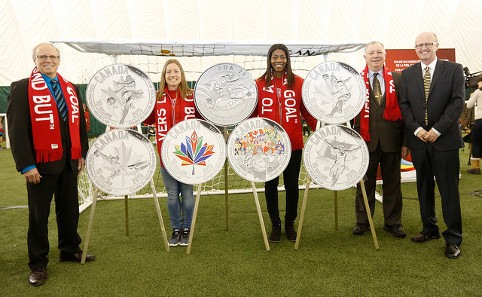 "After FIFA granted Canada Soccer the privilege of hosting the competition which represents the pinnacle of women's soccer, we are honoured that this proud moment in Canadian sporting history will now be permanently preserved in collector coins from the Royal Canadian Mint," said Victor Montagliani, Chair of the National Organising Committee for the FIFA Women's World Cup Canada 2015 and President of the Canadian Soccer Association. "As soccer continues to gain momentum across Canada, among players and fans alike, I believe these coins will help inspire a whole new generation of girls and women to get involved in the game."

The Mint is fielding an impressive roster of collector coins in celebration of Canada's hosting the FIFA Women's World Cup 2015™. Its line-up includes: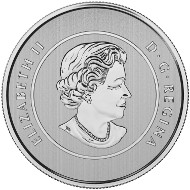 A "$20 for $20" fine silver coin, sold at face value and designed by artist Joel Kimmel;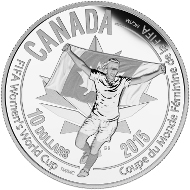 Celebration.
Four $10 fine silver coins designed by artist Greg Banning featuring the themes of "The Kicker", "Heading the Ball", "The Goalie" and "Celebration";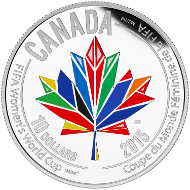 Canada Welcomes the World.
Two Greg Banning-designed coloured $10 fine silver coins: "Canada Welcomes the World" and "Go Canada Go!"; and
The Trophy.
Three $75 pure gold coins: "The Soccer Ball" and "The Championship Game" designed by Tony Bianco and "The Trophy", designed by Glen Green.

To get to the website of the Royal Canadian Mint please click here …

… and click here to read more about the FIFA Women's World Cup 2015.
Subscribe to our newsletter now
Get the latest news from the world of numismatics promptly delivered once a week by email.