Archive
The Revenge of the Solidi: The Holy Hand Grenade
August 7, 2014 – Numismatist and cartoonist Jeremy Bostwick discovers a different point of view of antiquity and its coinage. Today's cartoon is dedicated to Byzantine numismatics (and Monty Python) which Jeremy both loves: Globus cruciger or The Holy Handgranade!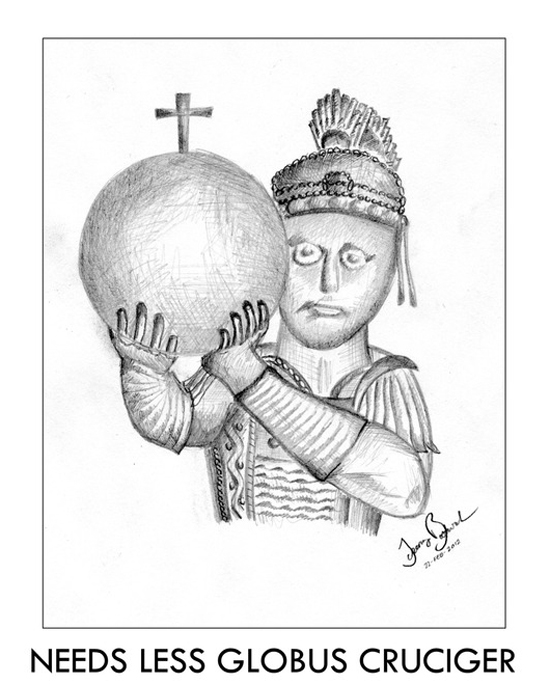 The Backstory…
A mainstay in Byzantine iconography as well as many other western cultures throughout the medieval period, the globus cruciger – or orb with a cross on top – represented Christ's rule over the world (signified by the cross and orb, respectively). A quick survey of Byzantine coinage will show just how omnipresent this little reichsapfel was in the depiction of emperors and empresses. Since it played such an important role, one would think that it would have had some significant weight to it, but alas no, it would have easily fit into the palm of your hand… thus, the holy hand grenade:
Bronze Decanummium of Justinian I, struck between 547-565 at Rome. Courtesy of Classical Numismatic Group, Inc.
Gold Nomisma of Irene, struck between 797-802 at Constantinople. Courtesy of Classical Numismatic Group, Inc.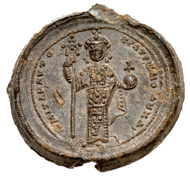 Lead Seal of Michael VII Ducas, issued between 1071-1078. Courtesy of Classical Numismatic Group, Inc.
You may follow 'The Revenge of the Solidi' on Tumblr …

… or on Twitter.
Subscribe to our newsletter now
Get the latest news from the world of numismatics promptly delivered once a week by email.