Archive
Werner Kahle, Russland (Sowjetunion und Russische Föderation) – Medaillen mit nautischen Motiven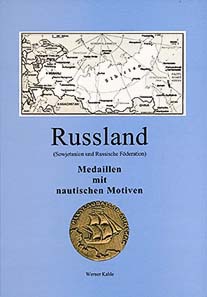 Werner Kahle, Russland (Sowjetunion und Russische Föderation) - Medaillen mit nautischen Motiven. Eigenverlag, Hamburg 2009. 505 S., durchgehend farbig und sw illustriert. Kartoniert. Klebebindung. 21 x 30 cm. Das Buch ist nur in sehr begrenzter Auflage (60 Exemplare) für einen Preis von 55 Euro inklusive Porto gegen Vorkasse zu erhalten bei Werner Kahle, Unnastr. 43, 20 253 Hamburg.
November 11, 2009 – Numisnautik ist ein Spezialsammelgebiet, das sich ausschließlich auf Münzen und Medaillen mit Schiffsdarstellungen beschränkt. Daß die eifrigsten "Numisnautiker" in Hamburg sitzen, ist da natürlich nicht verwunderlich. Einer von ihnen ist Werner Kahle, der nun im Eigenverlag ein gewaltiges Buch vorgelegt hat zu den Medaillen der Sowjetunion und der Russischen Föderation mit nautischen Motiven.
Dies ist verdienstvoll, denn Literatur über die modernen russischen Medaillen ist nur schwer erhältlich. So erschließt der Autor einen bis jetzt relativ unbekannten Bereich der Numismatik über seinen umfassenden und reich bebilderten Katalog.
Es ist ein schönes, mit viel Liebe gemachtes Buch, von einem Sammler für andere Sammler, das sicher vielen Benutzern Freude machen wird.
Subscribe to our newsletter now
Get the latest news from the world of numismatics promptly delivered once a week by email.