The Most Expensive Russian Coin – and Likewise the Most Expensive European Coin
September 13, 2018 – The first CoinsWeekly Coin Record was submitted by the Swiss auction house Sincona. They are convinced of having sold the most expensive Russian coin.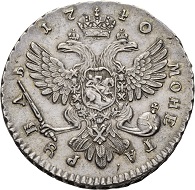 The most expensive Russian coin: Ivan VI, 1740-1741. Trial piece of a ruble from 1740. Only five specimens known. Estimate: 250,000 CHF. Hammer price: 3,600,000 CHF. Sold by Sincona at Auction 7 (October 9, 2012), no. 227.
This is a trial piece of a ruble minted in 1740 on behalf of Tsar Ivan VI, 1740-1741. It was struck at the St Petersburg mint. Either 1,000 or 300 specimens of this ruble are said to have been made. As far as we know, there are only 5 surviving specimens.
The hammer price was realized at 3,600,000 CHF. On auction day, this equated to ca. 3.8 million dollars or 2.97 million euros.
As experts, Alexander Basok and Dmitri Markov were asked to verify this record on September 10, 2018.
This link takes you to the Sincona website.
Here you will learn more about the bitter fate of Iwan VI.
If you also would like to submit a CoinsWeekly Coin Record, here is more about what you need to participate.
Subscribe to our newsletter now
Get the latest news from the world of numismatics promptly delivered once a week by email.