Numismatic Northern Spain – Part 10
by Ursula Kampmann

January 17, 2012 – Ernest Hemingway made Pamplona famous. Ever since, thrill-seeking hooligans the world over have been going there for their chance to run with the bulls. And yet, Pamplona has so much more to offer! Join us on this final leg of our trip as we fall into a pit (!) and then manage to get out of it again with the help of some kindly Spaniards …

Thursday, April 19, 2012
Pamplona is a tourist attraction that's especially popular with Americans.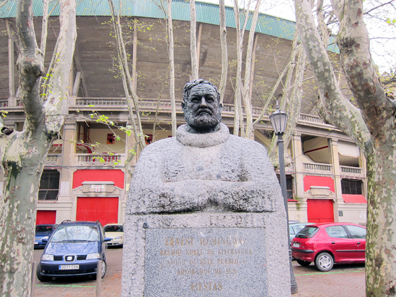 The hero of Pamplona: Ernest Hemingway. Photo: KW.
The citizens of Pamplona are extremely grateful to Ernest Hemingway. His first novel, "Fiesta," from 1926 made this once sleepy village world famous. And even if you're not that keen on Hemingway, Pamplona is certainly worth a visit – there's an infrastructure here that's exemplary for Spain.
Remains of a Roman statue. 1st century BC. Museo de Navarra. Photo: KW.
In 74 BC, Pompeius established a city and named it after himself. During his lifetime, the name had already been parodied into "Pompaelo." The small provincial town was located on the road from Astorga to Bordeaux until it was destroyed in 276. It was subsequently rebuilt by its citizens.
In 542, the Merovingian Childebert I conquered Pamplona. A bishop's see was established there, and from the 6th century on, at the latest, Pamplona was the centre of Basque Christianization.
Detail of a small ivory box from Cordoba, made in 1004-1005. Museo de Navarra. Photo: KW.
During the 8th century, the Moors and Franks fought over the city. The 778 campaign of Charles the Great has become famous – he arranged for Pamplona's city walls to be torn down. Perhaps that was the reason why Abd ar-Rahman I managed to recapture the city in the year 781.
Noblemen founded the kingdom of Pamplona in the early 9th century, and it was to be the forerunner to the empire of Navarre. The city then remained cloaked in the shadows of history. It was ruled by a powerful bishop. In 1187, he had the remains of Saint Firmin transferred to Pamplona, thereby offering pilgrims a welcome reason to make a stop in the city.
Catherine and John of Navarre (1483-1512). Cornado, Pamplona. From Cayon May16, 2012, 416.
In 1512, Pamplona was incorporated into the kingdom of Spain. In 1521, it was besieged by the French – an event that wouldn't have warranted a mention had it not had a decisive influence on European history. One of the defenders, a young officer, was seriously injured during the siege by a canon ball. While convalescing, he had no other choice but to read theological devotional works. He was so moved by the writings that he founded the Jesuits as Ignatius of Loyola, and in so doing, helped to establish the Counter-Reformation.
Medal to the invasion of Wellington in Pamplona, 1813, and medal to the Battle of the Pyrenees in the same year. From Baldwin auction 212 (2012), 303.
Pamplona was expanded into a fortress under Philip II. The star-shaped fort was intended both to keep proponents of Navarre's independence at bay, as well as keep out the French, who were all too keen to extend their territory. And yet, it was Napoleon who first succeeded in conquering the city. By 1813, the horrible episode was over, but Pamplona wouldn't enjoy peace for very long – in 1833, it became one of the focal points of the first Carlist War.
Isabella II. 8 Maravedis, Pamplona. From Cayon, September 16, 2011, 4608.
It was almost anachronistic. Instead of fighting for freedom, the more rural regions of Northern Spain fought for a reactionary pretender to the throne named Charles V, who gladly would have re-launched the Inquisition. Liberal Pamplona, however, was on the side of Isabella II, who was just 2 years old when her father died. Her rights were safeguarded by her mother, Maria Christina of Bourbon. She saw the opportunity in a constitutional monarchy which, however, endangered the old privileges, a fact that frightened the residents of Navarre. The first Carlist War was to last from 1833 to 1840. But there was a second and a third one, and Carlism even cast a pall over the young democracy of the 20th century. After the outbreak of the Spanish Civil War in 1936, Franco's supporters were able to gain control over Pamplona (too) quickly. Today, Pamplona ranks among Spain's top cities in terms of standard of living. Cost of living, however, is also considerably higher.
The Cathedral of Pamplona. Photo: KW.
Pamplona has a cathedral that's well worth seeing that also has a terrific museum, where one Romanesque Madonna is lined up after another.
The chimney of a medieval kitchen. Photo: KW.
The museum also has a considerably more unusual attraction – a medieval kitchen, preserved here in original condition. As far as I know, the only other comparable installation is the one in the Abbey of Fontevrault, although that one was completely modified through refurbishments of the 19th century. Here's a quick look into the huge chimney, which was needed in order to allow the smoke to escape from the four open fires.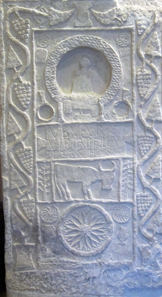 Roman-Iberian tombstone in the Museo de Navarra. Photo: KW.
Even more exciting – the Museo de Navarra with its exquisite archaeological section.
Roman-Iberian tombstone in the Museo de Navarra. Photo: KW.
Even if the Roman-Iberian style does take a bit of getting used to …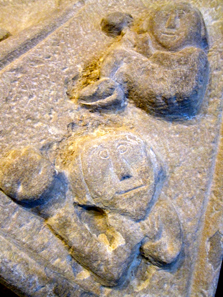 Pre-Romanesque tombstone in the Museo de Navarra. Photo: KW.
I can't help myself. There's a special charm to the local art.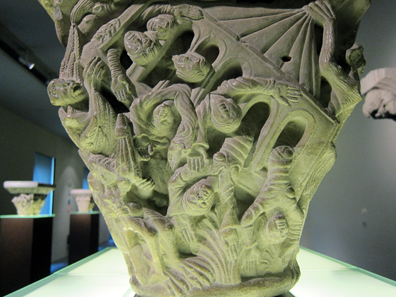 Capital of the 12th century from the Cathedral of Pamplona. Photo: KW.
International art also came to Pamplona, however, by way of pilgrims on the way of St. James. As such, you'll also find some exquisite stone carvings from the 12th century, like this unconventional depiction of the story of Job. Rarely is the collapsing house that (according to tradition) killed his seven sons and three daughters depicted so realistically.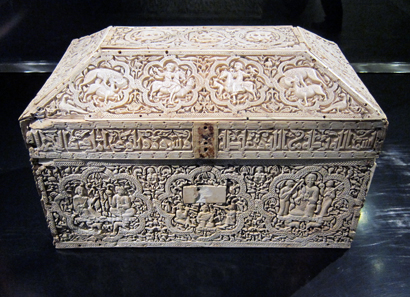 Spanish-Arabic coffer from 1004/5. Photo: KW.
Among the most precious items is a small ivory coffer, which was made in 1004/5. The carvers' names have been passed down to us in the inscription. The legend on the front praises Allah, albeit in letters that only a very small number of Christians would have been able to read. It would be interesting to know whether the monks of the San Salvador de Leyre monastery, from whence this little wooden box originates, were deliberately keeping this precious item in their possession: the relics of Nunilo and Alodia.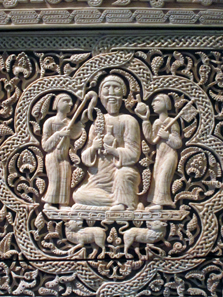 Detail of the carvings. Photo: KW.
Nunilo and Alodia were, in fact, child saints born of a marriage between a Muslim and a Christian woman. The two sisters are said to have opted for their mother's faith, and to have been publicly executed in the mid-9th century.
Display case with coins. Photo: KW.
There was just one downside to this museum: the coins were, once again, terribly displayed. For example, you actually have to kneel down here on the floor in order to see them. And even then, you of course end up casting a shadow and can't see anything anyway. They could have spared themselves the presentation of the pieces.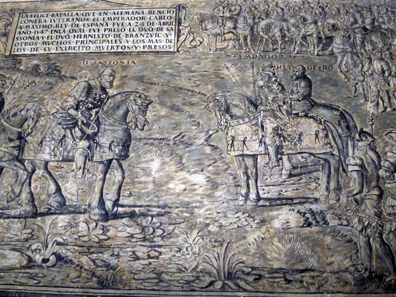 The Battle of Mühlberg 1547. Photo: KW.
This hall was completely unexpected, painted as it was with a pivotal scene from German history. The contemporary depictions of the Elector of Saxony and of Charles V came about when a noble family built themselves a palace near Pamplona. Needless to say, that was an issue for a devout Catholic: Ultimately, the Habsburgian victory at Mühlberg was seen as THE triumphal event in the war against the Lutherans. Incidentally, Philip II himself stayed in the palace and admired the paintings honouring his father.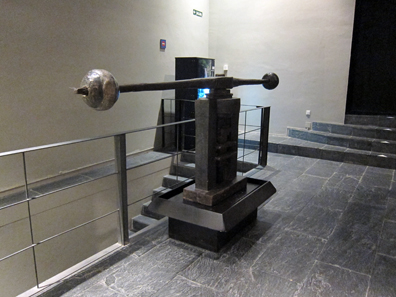 Screw press in the hallway. Photo: KW.
At the end, we also discovered a screw press that had spent its life in the hallway.
Screw press as a souvenir. Photo: KW.
Screw presses were also available in miniature form. But this souvenir's mid three-digit price was enough to ward off a purchase.

We were pretty tired when we finally arrived in front of our hotel in SOS del Rey Catolico. Our car was put up in the hotel's own garage, since there weren't really that many parking options in this little mountain village that lies on a steep slope. The garage was really more designed for small cars though – my Toyota Avensis was almost too wide. Moreover, the garage door didn't open automatically, so the procedure went like this: We blocked the laneway in front of the hotel with our car, I ran to the reception and patiently waited my turn, and then the doorman opened the garage door.
The key to the whole thing was patience – which, as most people know, is not something my dear Kurt always possesses to a great degree. What's more, there was a small truck behind him with construction workers, and he wanted to let them go by. But he overlooked the fact that we were in a mountain village whose streets frequently have pits that hide steps that lead into the houses. In short, when I came back out of the hotel, our car was lying on its stomach. Kurt had driven one of the tires into said pits, and the car lost its balance. And that was that, nothing more.
While I was busy throwing my hands up in shock and horror, the construction workers got out of their truck. They talked amongst themselves a bit, called workers over from another building site, and before we knew it, they had all pitched in and lifted the car back onto the road. A quick friendly greeting to us, and they were off!

Friday April 20, 2012
Then there was the next morning panic, wondering if the oil sump had taken any of the brunt of the car's little adventure. But there weren't any telltale stains under the car. Amazingly, nothing, absolutely nothing had happened! And so, we drove on, praising the helpfulness of all Spaniards.
Our final destination in the Pyrenees was another monastery, San Juan de la Pena, "St. John in the mountains," a jewel of the Romanesque period and an overcrowded tourist destination.
San Juan de la Pena. Photo: KW.
When we arrived on this rainy day though, there was nothing happening. It was just us and a car full of Americans. But even so, management showed no mercy. We were not allowed to stop at the parking lot by the church, but instead had to drive on to the baroque monastery further up, pay for the tickets there, and then get on a bus to drive to the lower-lying monastery …
The church interior carved into the rock. Photo: KW.
We passed on seeing the Kings of Navarre in their new, 1770-built pantheon, and instead made do with the medieval monastery, whose monks, with their intimate knowledge of document forgery, had secured themselves lucrative privileges.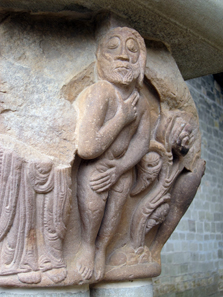 Adam: Capital from San Juan de la Pena. Photo: KW.
The magnificent capitals of the monastery serve as an important testimony of this era. They rank among the best of contemporary stonemasonry.

And that was it for Northern Spain! We went back over the Pyrenees and through Avignon. In just three weeks, we had managed to drive right across the country. Of course, we only got to see a fraction of everything there is to see, but even so, it left indelible impressions. I highly recommend a trip, and think everyone should visit this corner of Spain at some point in their lives. But be sure to time your travels carefully – despite popular misconceptions, it's definitely not always sunny in Northern Spain!

You can read all other parts of this diary here.
Subscribe to our newsletter now
Get the latest news from the world of numismatics promptly delivered once a week by email.