Fritz Rudolf Künker, D-Osnabrück
11. March 2013 - 16. March 2013
Auction sales 226-231
Something for everyone: Künker auction week with hammer prices ranging from 25 euros to 150,000 euros
A number of special collections at once were auctioned off in Osnabrück in the middle of March, ancient coins from the Koch Collection and medieval coins from the collection of Dr Curti. On the third day a special collection Cologne, Rhineland and Westphalia was sold, on day four a special collection Nuremberg and Franconia as well as numerous gold coins from the Vogel Collection. And there was the Sultan Collection – not to mention the smaller collections like Denmark and Ireland that had been woven into the regular catalogs. 7,475 lots had been estimated at 8 million euros. The total hammer price was nothing less than 11.4 million euros, despite the fact that there were some lots that changed hands for the humble sum of 25 euros.

Catalog 226: When looking for a trend with ancient coins, it might be summarized that the more remote areas attract more and more attention. This was proven already when Künker auctioned off the Celtic coins.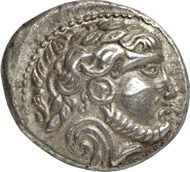 90: Celtic coins. PANNONIA. Tetradrachm, Bartkranzavers type, 2nd/1st cent. B. C. Kostial 410. Extremely fine. Estimate: 1,500 euros. Hammer price: 6,500 euros.
An extremely fine tetradrachm from Pannonia of the Bartkranz type came with a realistic estimate of 1,500 euros, but was sold for the incredible sum of 6,500 euros. And that was by no means the only Celtic result that sprang a surprise. Similar price increases were to be witnessed only at the end of the catalog, when it came to the coins of the Indo-Greek kings. To give only one example: an extremely fine tetradrachm of Philoxenos left its estimate of 1,000 euros far behind and arrived at 7,500 euros. The piece came from a Triton auction sale and had been sold in 2005, for the sum of 1.300 $ (= 993 EUR) back then.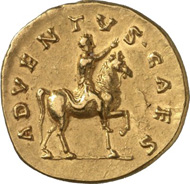 857: Roman Imperial Times. COMMODUS, 180-192. Aureus, 175/6. RIC 604. Extremely fine splendid specimen. Estimate: 30,000 euros. Hammer price: 50,000 euros.
Aurei in superb conditions unleash a virtual gold rush at present. Here are some cases in point from the latest Künker auction sale: 50,000 euros for Commodus (estimate: 30,000), 34,000 for Caracalla (estimate: 34,000), 26,000 euros for Valerian (estimate: 12,500) and 34,000 euros for the solidus of Petronius Maximus (30,000). For those who have to watch their budget carefully there were plenty aurei in very fine condition to buy, available for 2,000 to 3,000 euros! A barbarized aureus of Septimius Severus from the Trau Collection also benefited from the 'exotic bonus' and climbed from 1,000 to 5,000 euros.

Catalog 227: Numerous medieval rarities in the best state of preservation were included as part of the collection of Dottore Edoardo Curti. That was reflected in the high estimates. Still, there were some items that yet exceeded their estimate, like a solidus of Sigismund (516-524), sold for 13,000 euros (estimate: 10,000). A denarius of Charlemagne purchased from the Hamburger stock in 1935, minted perhaps in Milan, rose from 4,500 to 7,500 euros.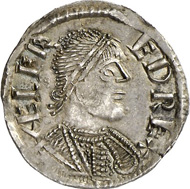 2342: England / Anglo-Saxon coins. ALFRED, 871-899. Penny, London. North 644. Extraordinary portrait. About mint-state. From auction sale Gemini VI (2010), 935. Estimate: 18,000 euros. Hammer price: 20,000 euros.
A penny of Alfred of England, 871-889, most probably the best portrait of Anglos-Saxon Britannia, started with 18,000 euros to arrive at 20,000 euros; …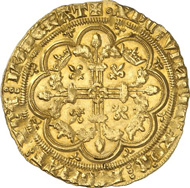 2444: France. PHILIP VI, 1328-1350. Couronne d'or n. y. (January 29, 1340). Duplessy 252. Extremely fine to mint-state. Estimate: 35,000 euros. Hammer price: 46,000 euros.
… and this collection's highlight, the historically highly important couronne d'or of Philip VI, minted after January 29, 1340, achieved 46,000 euros (estimate: 35,000 euros), and that truly is a fantastic price for a medieval coin!

Catalog 228: Something there for everyone plus a couple of special collections – this was what the third catalog of Künker's had to offer. It was a kind of eldorado for the specialized collectors who were willing to pay prices for some items that seem incredible to anyone not that familiar with the subject. Just have a look at the collection of Irish pennies that – and we shouldn't feel ashamed to admit it – all looked pretty much the same to the layman. Their total estimate had added up to 62,175 euros, the hammer price was 134,140 euros.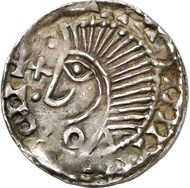 3000: IRELAND. Anonymous, 1065-1095. Penny, Dublin. Phase V. Seaby 6151. Very fine to extremely fine. From Stack Collection, auction sale Sotheby April 22, 1999, lot 804. Estimate: 1,000 euros. Hammer price: 5,500 euros.
Individual items greatly increased, like a penny from phase III, estimated at 250 euros, auctioned off for 1,600 euros; or a very rare penny from phase V, sold for 5,500 euros (estimate: 1,000 euros).
All expectations were exceeded by a series of patterns from Poland. The sixteen pieces had been estimated at 21,550 euros. The hammer price read 64,350 euros which is more than three times the pre-sale estimate.
3281: POLAND. Republic, 1919-1939. Pattern of 100 zlotych 1925, Warsaw, in silver. Mintage only 100 specimens. PP. Estimate: 1,500 euros. Hammer price: 8,500 euros.
The most expensive lot was a pattern in silver of 100 zlotych 1925 with a mintage of only 100 specimens (1,500 / 8,500 euros). One of the auction's most expensive items likewise came from Poland, a reichsthaler 1646 from Danzig with the title of Wladyslaw IV (1,500 / 22,000 euros).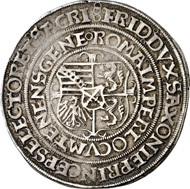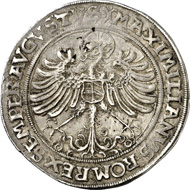 4801: Germany. SAXONY. Frederick III, 1486-1525. 1/2 guldengroschen n. y, minted in Nuremberg. Keilitz 72. Very fine. Estimate: 20,000 euros. Hammer price: 28,000 euros.
Of auction 228 only one other single lot can compete with such prices, a 1/2 guldengroschen of Frederick III, the Wise, Elector of Saxony (20,000 / 28,000 euros).
Some lots from the end of the catalog, however, proved that Künker's lots yield magnificent prices as well. A telling example is a collection of coins from Germany, 11th to 19th century, comprising 1,450 in very fine to about mint-state. They had been estimated at 7,000 euros; the fierce bidding came to a halt as late as 36,000 euros.

Catalog 229: Five-figure sums by the dozen were paid for coins from the special collections Cologne, Rhineland and Westphalia. Let's concentrate on the most expensive objects here:
6030: Germany. WERDEN and HELMSTEDT. Hugo Preutäus, 1614-1646. Reichsthaler 1636. Dav. 5923. Good very fine. Estimate: 7,500 euros. Hammer price: 42,000 euros.
with 42,000 euros top seller was a reichsthaler of the Werden and Helmstedt Abbey from 1636 (estimate: 7,500 euros), likewise remarkable a ducat of the Bishopric of Münster from 1693 (10,000 / 36,000 euros). And there was a lady that played a significant role here, too: Anna Salome of Salm-Reifferscheid, Abbess of Essen Abbey. Her reichsthaler from 1660 showing the portrait yielded 34,000 euros (estimate: 15,000 euros); without the portrait, with a cityscape it was less expensive with a price of 32,000 euros (estimate: 15,000 euros).
6172: Germany. NUREMBERG. 6 ducats 1745. Gold pattern of the reichsthaler dies, with title of Francis I. Fb. 1908. Extremely fine. Estimate: 10,000 euros. Hammer price: 38,000 euros.
The special collection Franconia was well able to keep up with that. A gorgeous Nuremberg 6 ducat piece from 1745 brought 38,000 euros (estimate: 10,000 euros).

Catalog 230: That, on the other hand, wouldn't have got you very far in regard to the gold coins. 75,000 (Leopold I, 10 ducats 1668 Kremnitz), 50,000 (Leopold I, 10 ducats 1703, Nagybánya), 60,000 (Salzburg, 10 ducats 1594 Turmprägung) – this was how the top hammer prices read.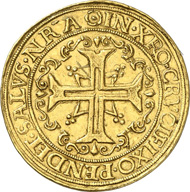 7394: Germany. HAMBURG. Portugalöser of 10 ducats n. y. (1578-1582) of mint master Andreas Metzner. Bahrfeldt 3 (2nd die). Cipher of value "X" incised on obverse and reverse. About extremely fine. Estimate: 80,000 euros. Hammer price: 110,000 euros.
But that wasn't all: when it came to a series of Hamburg portugalöser prices rose even higher. 110,000 euros were realized by the early portugalöser of 10 ducats n. y., minted between 1578 and 1582. This result – which was achieved by a Russian piece as well – made this coin the second most expensive item of the sale.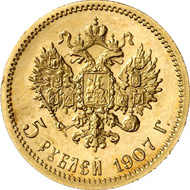 8617: Russia. NICHOLAS II, 1894-1917. 5 rouble 1907, St. Petersburg. Bitkin 33. Mintage only 109 specimens. Mint-state. Estimate: 25,000 euros. Hammer price: 110,000 euros.
Its Russian opponent was one of the great rarities of early 20th century's numismatics. Only 109 specimens had been produced of the 5 rouble piece 1907 of Nicholas II. The estimate was 25,000 euros, and the result – as already mentioned – was 110,000 euros.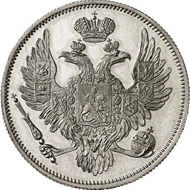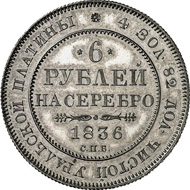 8396: Russia. NICHOLAS I, 1825-1855. 6 rouble piece platinum 1836, St. Petersburg. Bitkin 63. Mintage only 11 specimens. Proof. Estimate: 30,000 euros. Hammer price: 150,000 euros.
The only one who managed to outstrip Nicholas II was Nicholas I, or rather his 6 rouble piece in platinum, minted in St. Petersburg in 1836 in a small mintage of just 11 specimens. A collector was inclined to pay 150,000 euros for the piece, the most expensive item of the auction.
Last but not least, let's have a look at the imperial coins which currently achieve impressive results. Slightly overestimated was the most expensive item of this section, a Prussian 10 mark piece from 1878 B in very fine (80,000 / 65,000), grossly underestimated were cimelia from New-Guinea. The 10 mark from 1895 realized 34,000 euros (estimate: 20,000 euros) in PP, and 28,000 euros (estimate: 15,000 euros) in mint-state.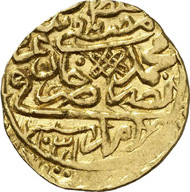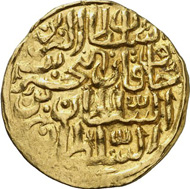 9818: OTTOMAN EMPIRE. Mustapha I ibn Muhammad III, 2nd reign, 1031-1032 AH (= 1622-1623). Sultani, Amid (Diyarbakir), 1031 (= 1622). Damali 15-AD-A1 (this specimen). Unique specimen. Very fine to extremely fine. From auction sale Peus 338 (2006), 382. Estimate: 7,500 euros. Hammer price: 22,000 euros.
Catalog 231: Most expensive item of the Sultan Collection became a unique sultani from 1031, it achieved 22,000 euros (estimate: 7,500 euros). This was much more than what many other Ottoman coins realized of which the major part was sold for two- or three-figure sums. This is an area with potential considering the kind of renaissance the Ottoman history experiences in Turkey these days.

You can view all results online.

The catalog of the June auction sale can be ordered at Künker, Gutenbergstraße 23, D-49076 Osnabrück; phone: 0541 / 96 20 20; fax: 0541 / 96 20 222; or by email.
Subscribe to our newsletter now
Get the latest news from the world of numismatics promptly delivered once a week by email.