Heritage, USA-New York
06. January 2013 - 07. January 2013
Ancient & World Coin Signature® Auction
Heritage Auctions' New York World & Ancient Coin auction realizes more than $14 million
Rare gold from around the world led the way as Heritage Auctions' Jan. 6-7 Ancient & World Coin Signature® Auction, held in conjunction with the New York International Coin Show (NYINC) at the Waldorf-Astoria, realized more $14 million total, including a record-breaking $2.1 million alone in the Jan. 16-17 non-floor sessions. All prices include 17.5% Buyer's Premium.

"By the time the live auction started we had more than 20,000 book bids and the floor took us even higher," said Cristiano Bierrenbach, Vice President of Heritage Auctions. "The overall strength for world and ancients coins remains very strong. The sale results, in fact, exceeded our most optimistic estimates, especially in our non-floor session auction on Jan. 16 with more than $2 million worth of coins sold. Collectors, clearly, are quite involved at all levels of the market."

The results join the more than $60 million realized by Heritage U.S. Coins and Currency at the Florida United Numismatic (FUN) Convention Auction, Jan. 9-14, in Orlando, making for a $72 million week overall for Heritage, the world's third largest auction house.

"Quality material continues to show up on the market and collectors continue to respond, across all areas of numismatics," said Greg Rohan, President of Heritage Auctions. "This week in January normally sets the tone for the year and, if this is any indication of collector engagement, 2013 is going to be solid."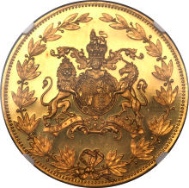 21015: Victoria gold pattern Crown ND (1887). Estimate: $200,000-250,000. Realized: $235,000.
Taking the top spot in the auction was a pattern gold Crown struck for Queen Victoria, graded Proof 64 Ultra Cameo which sold for $235,000. This ultra-rare, undated piece was struck in 1887 in Nuremberg, Germany. The obverse was patterned after the famous William Wyon young head portrait of Victoria, while the reverse devices include the Order of the Garter crest supported by a crowned lion and a unicorn in chains. The designer of this piece is unverified, as the artist did not sign the dies.
20189: Pedro II gold Ingot of Serro Frio 1832, Prober 1832-SF-114, accompanies original Guia. Estimate: $150,000-200,000. Realized: $188,000.
Gold ingots from Brazil are extremely rare in private hands, and those with the original certificate, the "Guia," doubly so. A Brazilian ingot of Serro Frio, 1832, one of only 6-8 surviving ingots with "Guia," sold for $188,000 in New York. The piece has a pedigree going back more than 100 years and was likely one of the last such ingots struck; research done by prominent Brazilian numismatist Kurt Prober lists a single 1833 example. The vast majority of Brazilian ingots reside in museums and institutions.
20047: Ferdinand III (1627-1657) gold 12 Ducats 1629-HG. Estimate: $75,000. Realized: $129,250.
A gold rarity from Bohemia, the 1629-HG Ferdinand III 12 Ducats from the Glatz mint, brought $129,250. The double-taler sized rarity, graded MS52, is so rare that Heritage was unable to find a record of a similar piece previously selling at auction.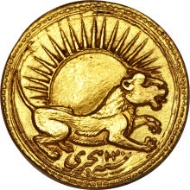 22005: Mughal, Jahangir, AH 1015-1037 / AD 1605-1628, gold portrait mohur (10.88g, 21.5mm). Estimate: $60,000-80,000. Realized: 82,250.
One of the most intriguing and interesting sections of the Heritage NYINC event was the presentation of The Sunrise Collection of Islamic Coins, the finest grouping of its kind ever assembled. Two gold coins led the grouping with identical $82,250 prices realized: a magnificent Jahangir Portrait Mohur, AD 1605-1628, among the best-struck and finest examples known – and superb Jahangir Aquarius Mohur, AD 1605-1627.

Jahangir (AD 1605-1627) was the fourth Mughal emperor and the son of Akbar Shah. He was personally interested in the splendor of his coinage and is said to have been an avid numismatist himself. His fascination with portraiture in all forms is well documented. Among his most famous and artistically magnificent coins are his portrait pieces and his "Zodiac Mohurs."

"This coin type has been presented as evidence that Jahangir converted to Christianity, since portraiture is strictly forbidden in the Islamic artistic canon," said David Michaels, Director of Ancient Coins at Heritage, "but there is insufficient evidence to corroborate that suggestion. It's far more likely that Jahangir, like his father, remained a Sunni Muslim, but also a free-thinker who allowed free debate among men of all faiths within his realm."

Other highlights include, but are not limited to: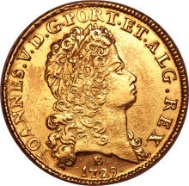 Brazil Joao V gold 12800 Reis 1729-B: Unlisted in Gomes, "First Shield Type" variety, AU. Extremely rare and previously unknown. Realized $105,750.
Russia Nicholas II gold 25 Roubles – 2 1/2 Imperials 1896: Realized $82,250.
Russia Elizabeth I Dassier Rouble 1757: Realized $79,313.
Salzburg Wolf Dietrich Von Raitenau (1587-1612) gold 8 Ducats 1594 MS63 NGC: Realized $73,438.
Great Britain George III pattern gold 2 guineas 1768 plain edge, PR62 NGC: Realized: $70,500.
Marcus Aurelius and Commodus (AD 177-180) Bronze Military Diploma for Cavalryman Sisceius, Dated 23 March AD 178: Realized $58,750.

You can browse through the complete auction catalogue online by clicking here.
Subscribe to our newsletter now
Get the latest news from the world of numismatics promptly delivered once a week by email.