Heritage, USA-New York
16. May 2014 - 17. May 2014
Eric P. Newman Collection, Part IV
NGC-certified Eric P. Newman, Part IV Realizes $11 Million
The 687 NGC-certified Colonial and Early American coins that comprised the Eric P. Newman Collection, Part IV, achieved more than $11 million in Heritage Auctions sale on May 16 and 17, 2014. This auction brings the total prices realized for Newman Parts I-IV, all of which were graded by NGC, to nearly $45 million.

Assembled over a period of more than 90 years by noted American numismatic researcher and writer Eric P. Newman, who turns 103 later this month, the coins are being sold by Eric P. Newman Numismatic Education Society (EPNNES) to benefit various nonprofit organizations.
"The Eric P. Newman sales are without a doubt the most important US auctions of the last decade, if not of all time," said Mark Salzberg, chairman of NGC. "We are honored that EPNNES has again entrusted NGC to certify selections from this incredible collection."
Friday's results were led by the 1776 Silver Continental Dollar graded NGC MS 63 that sold for $1,410,000, or nearly triple the previous auction record for a Continental Dollar, …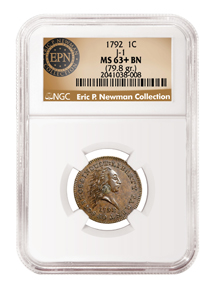 … and the 1792 Pattern Silver-center Cent in NGC MS 63+ BN that also realized $1,410,000. These are the third and fourth NGC-certified Newman coins to break the $1 million barrier at auction.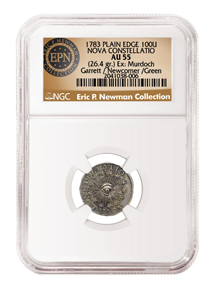 They were followed by a unique 1783 Nova Constellatio Plain Edge Bit graded NGC AU 55 that sold for $705,000. This historically important coin was made for the proposal of the first coinage in the newly independent United States. Its last appearance at auction was in 1903.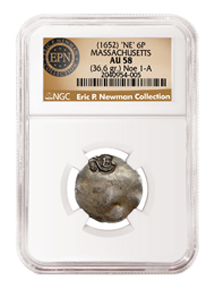 Another significant coin in Newman Part IV was the NGC AU 58 New England Sixpence, struck in 1652 as one of the first coins minted in the American colonies. The finest known example of this rare issue, it sold for $646,250, an auction record for any Massachusetts silver coinage.

The next-highest result in the sale came from the seldom-offered 1787 George Clinton New York Excelsior Copper. Graded NGC MS 63 BN, it sold for just under $500,000, which is more than double the previous auction record for an Excelsior Copper.
Newman Part IV also featured particularly important groups of Higley, Connecticut and New Jersey coppers.
The Higley coppers were crowned by a 1737 Threepence in NGC AU 50 BN – an exceptionally high grade for this issue – that realized $470,000, a record price for a Higley copper. Another coin produced by Higley, the rare and popular "J CUT MY WAY THROUGH" variety, was graded NGC VF 30 BN and sold for $199,750.
Newman's Connecticut coppers were highlighted by the 1787 Mailed Bust Right, Seated Liberty Right Connecticut graded NGC F 12 BN. One of only two known examples of this major variety, it realized $164,500 – a world record price for a Connecticut copper.
Two other important Connecticut coppers in the sale were the popular 1786 Hercules Head variety, graded NGC XF 45 BN, and the possibly unique 1786 Backwards D variety cataloged as Miller 2.5-V and certified as NGC VF 30 BN. Each piece realized $99,875.
An exquisite NGC MS 65 BN example of the desirable Running Fox 1788 New Jersey copper sold for $105,750. It is the finest known of the Running Fox type.

Other high points from Newman Part IV included the finest known Sommer Islands Small Sails Shilling, graded NGC AU 55 BN, and the very rare Sommer Islands Threepence in NGC VF 20 BN. Struck circa 1616 for the British colony of the Sommer Islands (Bermuda), they sold for $258,500 and $205,625, respectively, shattering the previous levels for items of this type and denomination.

After the sale, Maureen and Stuart Levine, advisors to EPNNES, said: "NGC's accurate grading gave bidders the confidence to set record prices for American Colonial coins in 'Selections from the Eric P. Newman Collection, Part IV.' The results were truly extraordinary!"

Items being sold are from the extensive collection of Eric P. Newman Numismatic Education Society (a Missouri not-for-profit corporation) and have been assembled over a period of 90 years. Proceeds of the sale of all items will be used exclusively for supplementing the Society's museum operations and scholarly research efforts and for the benefit of other not-for-profit institutions selected by Eric P. Newman Numismatic Education Society for public purposes.

For more information on the sale go to the Heritage website.

You can view all lots of this auction here.

To learn more about NGC go to the NGC website.
Subscribe to our newsletter now
Get the latest news from the world of numismatics promptly delivered once a week by email.