Morton & Eden, GB-London
03. July 2012 - 04. July 2012
Ancient, Islamic, British and World Coins and Medals Auction
Morton & Eden sale totalling over £718,000
On July 3-4 2012 Morton & Eden hold their Ancient, Islamic, British and World Coins and Medals Auction. Besides others the sale featured part 1 of the James Everett Seaver Collection of Ancient Coins.
Auctioneer Tom Eden said he was pleased with the results of this solid, commercial sale. Part 1 of the James Everett Seaver Collection of Ancient Coins, which opened the first day's sale sold very satisfactorily for a total of just over £100,000, while the first part of the collection of Roman Coins formed by the late Kenneth Edwin Day, sold to benefit the Department of Coins and Medals at the British Museum, recorded a lot of interest from collectors and raised a total of £32,000. Coins from the Westerham Hoard of Iron Age coins, which opened the second day's sale, sold for a total of £12,300. Elsewhere, 19th century Greek coins from an old collection recorded some solid prices and the Italian renaissance plaquette of a Bacchante after Caradosso did particularly well, selling for £15,600. It had previously been part of the Robert Lehman collection at the Metropolitan Museum of Art, New York.
The sale has totalled £718,275 (US$1,120,509) comprising 898 lots. These are the top ten results (prices shown include the Buyer's Premium of 20%):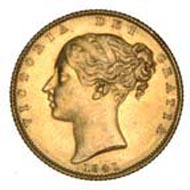 Lot 568.
Lot 568 Victoria, young head, sovereign, 1841. This variety of the 1841 sovereign (with unbarred A's in GRATIA) is especially rare in such a high grade of preservation. Estimate: £20,000-30,000. Sold for £26,400 ($41,184).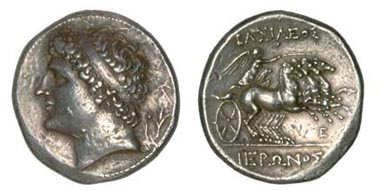 Lot 71.
Lot 71 Sicily, Syracuse, Hieron II (275-215 BC), 32 litrai. Estimate: £10,000-15,000. Sold for £18,000 ($28,080).
Lot 773 Greece, George I (1863-1913), essai 5 drachmai, 1875, Paris mint. Estimate: £7,000-8,000. Sold for £15,600 ($24,336).
Lot 896.
Lot 896 PLAQUETTE: Italy, after Caradosso. Estimate: £2,000-3,000. Sold for £15,600 ($24,336).
Lot 774 Greece, George I, pattern 2 drachmai, 1868, Paris mint, excessively rare. Estimate: £5,000-6,000. Sold for £12,000 ($18,720).
Lot 142 Sasanian, Khusru II (591-628), gold stater, year 21 = AD 611, extremely fine and rare. Estimate: £7,000-10,000. Sold for £10,800 ($16,848).
Lot 781 Greece, Constantine I (1913/22), essai 1 drachmi, 1915, Paris mint, extremely rare. Estimate: £5,000-6,000. Sold for £9,000 ($14,040).
Lot 399 Maximian Hercules (286-305), aureus, Ticinum?, 286, apparently an unpublished variety with this obverse legend. Estimate: £6,000-8,000. Sold for £8,400 ($13,104).
Lot 818 U.S.A., High Relief 20 dollars, MCMVII (1907). Estimate: £4,000-6,000. Sold for £7,920 ($12,355).
Lot 552 William & Mary, five-guineas, 1691 TERTIO. Estimate: £5,500-6,500. Sold for £6,600 ($10,296).
For further information on Morton & Eden, please click here.
You can download a comprehensive list of all prices realised in this auction by clicking here.
There is also available a catalogue.
Subscribe to our newsletter now
Get the latest news from the world of numismatics promptly delivered once a week by email.