Davissons
27. February 2019
Auction 38
British Crowns and Tokens at Davissons
Davissons' mail/internet Auction 38 featuring 343 lots will be closing on 27 February 2019. Davissons annual mail/internet auctions are the culmination of a year of purchases and consignments.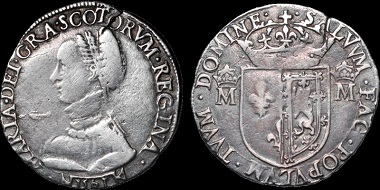 Lot 164: Scotland. Mary Stuart. AR testoon. Estimate: $9,000.
The most appealing and interesting lots acquired over the course of the year are held for this auction.
Lot 117: Charles I. AR crown. Ex John Brooker Collection (SCBI Brooker 274, this coin). Estimate: $16,500.
A highlight of their 38th major auction is a group of some of the finest crowns of Charles I to appear on the market in one sale since the Tallent Sale in 2008. Many come with century old pedigrees from famous collections whose former owners, Montagu, Slaney, Lingford, Brooker, Rashleigh, Cooper, Paget, represent a "who's who" of 20th century numismatics, and some of these pieces were rated by their owners as among the finest.
The sale opens with choice gold – ancient, world, some choice English hammered, and early U.S. gold, including one of the great rarities in the US currency gold issues, an 1861 Dahlonega dollar from the John Jay Pittman collection.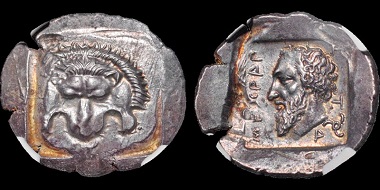 Lot 51: Dynasts of Lycia. Mithrapata. AR stater. Estimate: $4,750.
The ancient section covers, in a compact but select offering, Spain, Sicily with some beautiful tetradrachms, Macedon and Thrace and the beauty of Hellenistic dies on large silver, classic silver of Asia Minor, and a fascinating section of seldom seen Roman Provincial issues, the Koinon of Macedon series. Of particular note is an offering of Alexander type tetradrachms from less often seen mints such as Sinope and Myrina, and a beautifully toned Lycian tetradrachm of Mithrapata.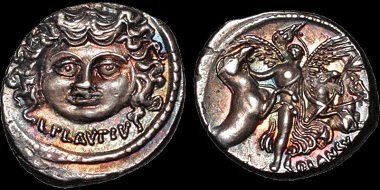 Lot 71: Roman Republican. L. Plautius Plancus. AR denarius. Estimate: $1,500.
Roman Imperatorial portraits of Julius Caesar (ex LaRiviere), Antony and Cleopatra, and Octavian follow several beautiful Roman Republic denarii. The Imperial section includes an exceptionally fine Nero sestertius.
Lot 213: Middlesex 290. London, Piccadilly. London Corresponding Society. AE Halfpenny. Estimate: $850.
The British trade token offering is made up of the Dr. Harry Salyards collection, and is an exceptional group. Dr. Salyards is the editor of Penny-Wise, the long-running publication of Early American Coppers, Inc. He built his collection to represent the counties as D&H defined them and his eye for quality is evident in the tokens. His enthusiasm is also evident in the many detailed notes he made on many of the envelopes holding his tokens. The envelopes and their liners accompany each of the pieces.
Lot 338: United States. William Pitt, the Elder. Repeal of the Stamp Act. AR medal. Estimate: $1,000.
A selective smattering of coins from an extended late 20th century collection of American coins provides an important section near the end of the sale. A couple of rare highlights are featured: in the beginning gold section the John Jay Pittman example of the extremely rare, and series key, 1861 Daholnega gold dollar and at the sale's penultimate point a well worn but very presentable silver example of a St. Patrick farthing are but two of the historic American coins in this section. It continues with some choice Colonial copper, and a select array of U.S. type. For the most part the coins are "raw" and cataloged using conservative British and European grading standards.
The auction closes with historic medals (including an example of the Manly medal of George Washington), and a few pieces of fine ancient coinage-inspired jewelry.
The entire sale is available online on the Davissons' website. The sale is also available in a high quality printed catalog, free on request.
There are no buyer's fees in Davissons auctions. UK bidders may pay in British pounds directly to a UK account. Bids can be placed online, via e-mail, or via regular mail: Davissons, PO Box 323, Cold Spring, MN 56320 USA.
Subscribe to our newsletter now
Get the latest news from the world of numismatics promptly delivered once a week by email.