Atlas Numismatics
15. November 2018
Fixed-Price List November
Atlas Numismatics Publishes their Newest Fixed-Price List
Atlas Numismatics has updated their website with 540 new coins, medals, and tokens at fixed prices. Selections include the following items:
1052258
Syracuse Tetradrachm in the style of Eucleidas
1052258: Greek. Sicily. Syracuse. In the style of Eucleidas. Struck circa 405-385 BC. AR Tetradrachm. NGC AU (About Uncirculated) Strike 4/5 Surface 4/5 Fine Style.17.30gm. Fast quadriga driven l. by charioteer, holding kentron and reins; above, Nike flying right to crown him, dolphin to left in exergue. Head of Arethusa l., hair bound with sphendone over which several tresses fly back, four dolphins around. SNG Lloyd 1406 (these dies). Tudeer 101. Coins, Artists, and Tyrants 101 (O34/R70). Beautifully toned and lovely elegant style. Ex Hess-Divo sale 317, 2010, 73. $13,500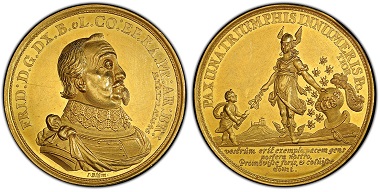 1051627.
Superb Medallic 10 Ducats
1051627: German States. Brunswick-Luneburg-Celle. Friedrich IV. (Prince of Luneburg, 1636-1648). 1646 AV Medallic 10 Ducats. PCGS SP61. By J. Blum. 43.83mm. 35.16gm. FRID:D.G.DX.B.eL.CO:EP.RA.PR:AR:BR: ("Friedrich by the grace of God, Duke of Brunswick and Lüneburg, bishop of Ratzeburg, head of the Archbishopric of Bremen"). Half-length bust right in double-laced collar / PAX UNA TRIUMPHIS INNUMERIS Po.; vestrum erit exemplo pacem gens postera nostro. Promovisse foris, e coluisse domi. Mercury stands on sword, holding large helmet that is being swarmed by bees; to the left a putto stands with arrow bundle, landscape with castle in background. Brockmann 598; Jungk 14.
On the event of his 72nd birthday. The date noted on the piece indicates that the medal was struck in 1646, but the text and illustration of the reverse refer to negotiations for the Peace of Westphalia (see Pax in Nummis 121). At the latest this piece would have been struck in 1648, for this is the year of Friedrich IV's death as well as the year of the Peace of Westphalia, and the reverse text refers to both him and these negotiations in the future tense. Lustrous attractive surfaces, extremely rare. $28,500
1052092.
Specimen Striking Geneva 5 Francs
1052092: Swiss Cantons. Geneva. 1848 AR 5 Francs. PCGS SP64. POST TENEBRAS LUX. Arms on large ornate shield / REPUBLIQUE ET CANTON DE GENEVE. Value, date within wreath. KM 137; HMZ 2-364a. Extremely rare as a specimen striking; deeply prooflike with sharp raised rims. $4,950
1051530.
Prooflike Lady-in-the-Clouds 100 Corona
1051530: Austria. Franz Joseph I. (Emperor, 1848-1916). 1908 AV 100 Corona. PCGS MS63PL (Prooflike). Kremnitz. Edge: Incuse lettering, VIRIBVS VNITIS. FRANC IOS I D G IMP AVSTR REX BOH GAL ILL ETC ET AP REX HUNG. Head right / 1848 1908 100 COR with DVODECIM LVSTRIS / GLORIOSE PERACTIS (Translation: 12 lustrae (5 year periods) gloriously accomplished) on two lines below. Resting figure of Fame (Lady in the clouds). KM 2812; Fr.-514. Struck to commemorate the 60th anniversary of the reign of Franz Joseph I. In our opinion this piece is more likely a proof striking, although not noted as such by PCGS; cameo contrast on devices and deep mirrored fields. $24,500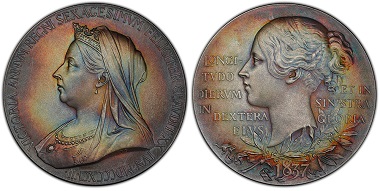 1050046.
Stunning 1897 Victoria Diamond Jubilee Medal
1050046: GREAT BRITAIN. Victoria. (Queen, 1837-1901). 1897 AR Medal. PCGS SP66 Matte. By G.W. De Saulles after T. Brock and W. Wyon. VICTORIA ANNVM REGNI SEXAGESIMVM FELICITER CLAVDIT XX IVN MDCCCXCVII. Crowned and veiled older bust left / Filleted young head left on olive branch; across field, LONGI-/ TVDO / DIERVM / IN / DEXTERA / EIVS ET IN / SINISTRA / GLORIA (under her watch, an everlasting and prosperous reign). BHM 3506; Eimer 1817a. Superbly toned. $1,350
Current and Upcoming Events
Atlas will be attending the following numismatic conventions. Please stop by and say hello if you have a chance.
The 47th New York International Numismatic Convention (NYINC)
January 10-13, 2019 - Table #TBD
Grand Hyatt Hotel
109 East 42nd Street, New York, NY
Located between Park and Lexington Avenues.
Updates to their online inventory are issued monthly.
For more information and to sign up for the firm's monthly newsletter, visit the Atlas website.
Subscribe to our newsletter now
Get the latest news from the world of numismatics promptly delivered once a week by email.