Atlas Numismatics
14. February 2019
Fixed-Price List February
Atlas Numismatics Publishes their Newest Fixed-Price List
Atlas Numismatics has updated their website with 875 new coins, medals, and tokens at fixed prices. Selections include the following items:
1053373.
Appealing Hadrian Aureus
1053373: Roman Imperial. Hadrian. (Emperor, 117-138 AD). Struck 134-138 AD. AV Aureus. NGC AU (About Uncirculated) Strike 4/5 Surface 4/5 Fine Style. Rome. 7.06gm. HADRIANVS AVG COS III P P. Bare-headed and draped bust right / SPES P R. Spes advancing left, holding flower and raising hem of robe. RIC 274 var.; BMC 732 var.; Calico 1383; C. 1410 var. Attractively toned and a handsome fine style portrait. Excellent pedigree. Ex M&M 37 (12/1968), 305. $15,500.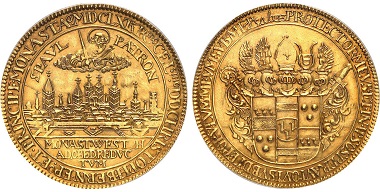 1054083.
Mint State Münster 6 Ducats
1054083: German States. Münster. 1661 AV 6 Ducats. NGC MS60. 20.87gm. Helmeted arms / Bust of St. Paul, city view of Munster below. KM 82; Friedberg 1773. Lovely deep orange-gold patina and sharply struck; minimal surface hairlines account for the grade but in our opinion this piece is very conservatively graded. $85,000.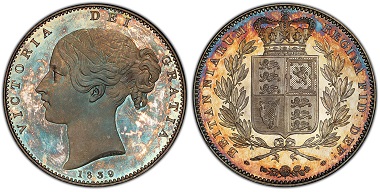 1054034.
Finest Known 1839 Proof Young Head Crown
1054034: Great Britain. Victoria. (Queen, 1837-1901). 1839 AR Crown. PCGS PR67 Cameo. Edge: Plain. VICTORIA DEI GRATIA. Head left / BRITANNIARUM REGIBA FID: DEF:. Crowned arms within branches. KM 741; SCBC-3882; ESC-279; Bull 2560. Superb and exceptional, almost certainly the finest surviving example of the type and the sole PR67 graded at both PCGS and NGC (the next highest graded example at PCGS is PR65 Cameo). $115,000.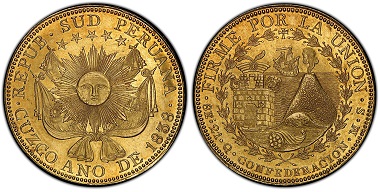 1054115.
Exceptional Sunface 8 Escudos of Peru
1054115: Peru. South Peru. 1838-C MS AV 8 Escudos. PCGS MS64. Cuzco. REPUB. SUD PERUANA... Flagged radiant sun face, stars above / Q.CONFEDERACION.M.S... Volcano, castle and ship within wreath. KM 171; Friedberg 92. Atlas Numismatics note that an NGC MS64 example of the date from the Lissner collection of the date realized $45,375 including the Buyer's Premium at public auction in August 2014 (Classical Numismatic Group, Auction 29, 1 August 2014, lot number 2120). Superb strike and luster, an exceptional example on an unusually fine planchet for the type. The sunface is particularly sharp. $44,500.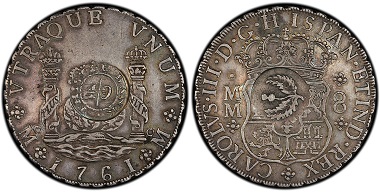 1054683.
Thistle Bank Counterstamp on Pillar 8 Reales
1054683: Scotland. Thistle Bank of Glasgow. ND (1811) AR 4 Shillings & 9 Pence. PCGS XF45. 26.95gm. "THISTLE BANK" countermark in a circle around "4/9" / Thistle countermark. KM-CC49; Manville-46. Struck on a Mexico 1761-Mo MM Pillar 8 Reales of Carlos III (KM-105), the earliest dated host coin recorded for a countermark of this issuer and extremely rare on a pillar undertype. Atlas Numismatics note that this exact example realized $8,225.00 including buyer's premium in the 2014 Heritage auction referenced in the provenance below. Grades as follows: Countermark graded XF Details Each countermark neatly applied and well-centered upon the host coin. Ex. Bt L. Sverdloff 1962; ex. Dix Noonan Webb September 17th, 2013, Lot 383; ex. Heritage New York Signature Sale 3030, Lot 25054. $8,500.
Current and Upcoming Events
Atlas will be attending the following numismatic conventions. Please stop by and say hello if you have a chance.
Whitman Spring Expo
February 28th - March 3rd, 2019
Baltimore Convention Center, Table #TBD Located in Halls H & G
Baltimore, MD
Central States Numismatic Society's 80th Anniversary Convention
April 24th - April 27th, 2019 - Table #1806
Schaumburg Renaissance Hotel and Convention Center
1551 North Thoreau Drive, Schaumburg, IL
Updates to their online inventory are issued monthly.
For more information and to sign up for the firm's monthly newsletter, visit the Atlas website.
Subscribe to our newsletter now
Get the latest news from the world of numismatics promptly delivered once a week by email.